Silicon Valley has long been a hub for tech innovation and investment, but the current economic climate has led to a sharp decrease in funding for startups and established companies alike. The high-tech sector in Silicon Valley has been hit hard by the recession, with companies laying off hundreds of thousands of workers. The recent mass layoffs in the tech industry have left many workers in Silicon Valley scrambling to figure out what to do next. While it may seem daunting, there are 10 things you can do to find your footing ASAP.
Don't panic after a layoff
Take a deep breath and assess your situation. If you have been laid off, you are not alone – 140,000 employees across 850 tech companies have been laid off so far. . While it may feel like your world has been turned upside down, remember that a layoff is not the end of your career. There are plenty of things you can do to rebound from a layoff and get back on your feet.
Dust off your resume
If you haven't looked at your resume in a while, now is the time to do so. Make sure your contact information is up-to-date and that your skills and experience are current. If you have been out of the workforce for a while, consider taking a refresher course or updating your skills. To make sure your resume is in tip-top shape, here are five things you should do to freshen up your resume and make sure it's ready to help you land your next gig:
Update your contact information.

If a potential employer can't reach you, they're not going to hire you. Make sure your resume includes your most current phone number and email address.

Add any new skills or experience.

Have you taken on any new responsibilities at your current job? Learned any new skills? Be sure to add these to your resume.

Tailor your resume for each job.

Don't just send out the same generic resume for every job you apply for. Take the time to tailor your resume specifically for each position, highlighting the experiences and skills that make you the best candidate for that particular job.

. Use keywords.

Many employers use applicant tracking systems (ATS) to screen resumes, so it's important to include relevant keywords throughout your resume. Look at the job listing and incorporate any key phrases or required skills into your resume.

Get rid of outdated information.

If you've been in the workforce for a while, there's no need to include every single job you've ever had on your resume. Stick to jobs that are relevant to the position you're applying for and omit anything that's more than 10-15 years old.
Start networking:
Let your friends and contacts know that you're on the job market. Sign up for newsletters and job alert emails you can sign up for to help you stay on top of new job postings in your field, and also consider joining professional organizations to help you meet people in your industry and learn about new opportunities.
Got to events
There are many cool tech events in the city where you can learn about new opportunities. If you are interested in joining our Future Tech Immserive: Art+ AI in January, we have reserved a batch of free tickets for those impacted by the layoff. Join our Substack to learn more.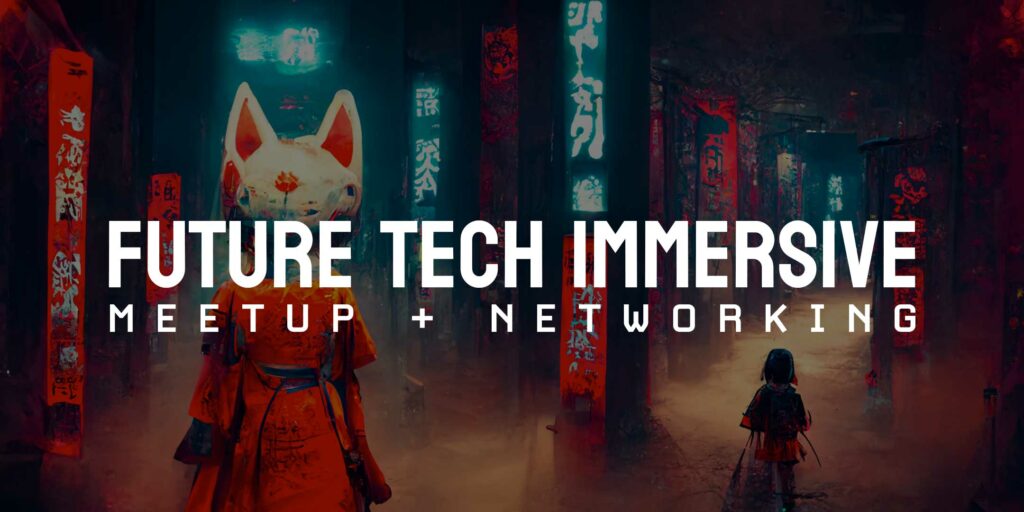 Get organized
Now is a good time to get your finances in order and figure out your next steps. This will help you stay on track and avoid any financial surprises down the road. To get started, take a close look at your income and expenses. Make sure you are aware of all of your debts and what interest rates you are paying. Once you have a clear picture of your financial situation, you can start making a budget. Decide what expenses are necessary and what can be cut back on to maximize your runway.
Emotional support
It's been a tough few months. You've been working hard, but unfortunately, you were recently laid off. It's natural to feel a mix of emotions at this time – sadness, anger, and anxiety. But it's important to remember that you need to take care of yourself, both emotionally and physically. Try to take some time for yourself. Relax and recharge. Maybe take up a new hobby or read that book you've been meaning to get to. Spend time with friends and family by locking them up in an escape room for example. Most importantly, be gentle with yourself. These next few months may be difficult, but you will get through them.
Think positive:
A layoff can be a chance to start fresh and pursue a new opportunity. Losing your job can be a scary and stressful experience. But it doesn't have to be all bad. A layoff can also be an opportunity to reassess your career goals and pursue a new path. If you're feeling lost after a layoff, it's important to remember that you're not alone. Many people have gone through the same thing and come out the other side stronger and more successful than ever. So try to stay positive and use this time as an opportunity to learn and grow. Who knows? This could be the best thing that ever happened to you.
The search
Starting your job search can be a daunting task, but don't give up until you find something that's a good fit. There are a lot of resources available to help you in your search, so take advantage of them. Use your network of friends and family to get leads on potential jobs, and don't be afraid to reach out to companies directly. The worst they can say is no. It can take time to find the right job but don't give up. Keep searching and eventually, you'll find something that's a good match for your skills and interests. Be patient and keep at it, and you'll eventually land your dream job.
Stay active
Some people believe that the best way to find a job is to simply sit back and wait for job offers to come in. However, this isn't always the most effective strategy. Instead, it's often better to stay active during your job search and remain engaged in your industry or field. This way, you can network with potential employers and show them that you're a dedicated professional who is always looking for new opportunities. Plus, staying active can help you stay sharp and motivated during your job search, which can make the process less daunting.
Be patient
The job market can be tough, but if you are patient and keep looking, you will eventually find something that is right for you. It may take some time and effort, but it will be worth it in the end. Be persistent and don't give up, even when things seem difficult. eventually, your efforts will pay off.
Never give up
Even when times are tough, always remember that it's possible to bounce back from a layoff – so never give up on your dreams. Losing your job can be a very tough experience. You may feel like you've lost everything and that your dreams are over. But it's important to remember that it is possible to bounce back from a layoff.
Never give up on your dreams. If you keep working hard and believing in yourself, you will eventually find success. So don't let a layoff get you down – keep fighting for what you want and never give up!