The World's First Future Tech Escape Room
Humanizing our relationship with technology and each other since 2014
Reason is an independent business started by a husband and wife team Mike and Crina. Who says brick and mortar mom and pop can't be cool?
We are passionate about technology and worked in an area where team assessment was crucial. As gamers and early escape room enthusiasts, we saw an opportunity to innovate the escape room medium into a platform for technology exploration, team optimization, and immersive storytelling.
To maximize results, we design, storyboard, build, program, and manufacture all of our games in house. We avoided franchising and buying off-the-shelf rooms so we can experiment with new technology and game mechanics on our own terms. Sometimes we spend months building a prop then finally realize why the tech would never work; other times we are glad we didn't give up on a puzzle because it seemed hard to instrument. The joy of startup life is real. You will find us either in the workshop or on the lobby floor making you next team adventure unique, memorable, and fulfilling. So make sure to say hi. We can't wait to meet you. – Mike & Crina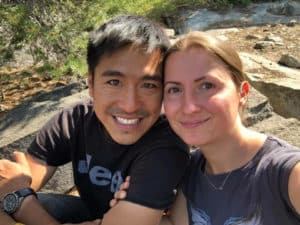 As part of Daimler's R&D team, Mike and Crina designed an interactive automotive museum exhibition in the Mercedes-Benz Arena. The project focused on driver experience and hands on exploration. The couple also discovered their love for escape room during the extensive international travels involved.
The next year, Mike & Crina hosted a corporate venture conference in Bali. Hundreds of innovators attended to discuss the investment, deployment, & commercialization of future technologies. The couple theorized the fastest way to evangelize mass adoption is through gamification and first contact experiences.
Mike and Crina move back to San Francisco and started Reason in an old motorcycle shop by Golden Gate park.  They hosted hardware demo days for their corporate partners and experimented with cutting edge civilian and military technologies from augmented reality telepresence to volumetric user interfaces. 
Long awaited Reactor Escape officially launches. Reason was featured on Product Hunt, Forbes, and CNET. Everyone seemed to love the experience. Having quickly validated the concept, Reason takes the plunge and moved to a larger building closer to downtown in SOMA San Francisco. Adventure continues.
As the team grows, Reason remastered Reactor Escape, expanded its in-house manufacturing facility, and launched the largest single instance escape room in the industry – Crash Site Escape.  Response to the game was overwhelming due to the innovative game play and its ability to dynamically optimize difficulty to a wide range of group sizes.
Taking the next step towards the future, Reason introduced consumer and children programs to enable first-contact experience for all.  In the meanwhile, research and development team continues to work hard to advance the escape room medium and building the the most cutting edge experiences. The future is fascinating and we can't wait to share it with you!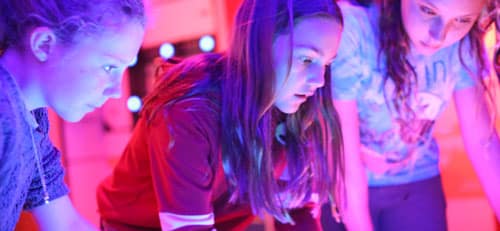 The need to stay connected while being apart inspired the creation of world's first remote escape, Lola in Space°. After that, Reason led the digital transformation of the escape room industry with innovations such as HUD in Mars°, and remote controllable props in Moonshot°. Reason was awarded the Golden Kitty award from Product Hunt for its contribution to the remote work ecosystem. 
After the first introduction of blockchain in Crash Site escape, Reason launches Codex, a collection of 10,000 digital art NFTs. Codex can be use it to alter the physical environment in Glitch, world's first NFT enabled escape room set in a futuristic Silicon fabrication facility. Codex lives on the blockchain forever and cannot be replicated, tampered with, or destroyed.
Reason gamifies technology exploration and enhances teamwork through a carefully crafted Sci-Fi experience. Players are locked in a room, and they have to solve a series of puzzles to escape within a set time limit. Reason specializes in large group team building and is located in the SOMA neighborhood in San Francisco, California.