Do you have a team that needs bonding? Maybe they're in need of a bit of skill building before releasing the next big product to disrupt the next big industry? Well, if this sounds like you, then do I have some good news: this list has everything you'll need to create the super team of your dreams!
How badly did you want to be Jack Sparrow when you first watched Pirates of the Caribbean? Well get ready to LIVE OUT YOUR DREAMS by taking your team for sailing lessons. It's finally getting warm and that means you can hit the high seas and learn what the difference between a jig and a rig is. SF Bay Sail is the perfect place to host corporate events and learn as a team by professionals.
How awesome would it be to be a professional formula one racer?! Well from working as a pit crew to racing in a race car, Sim Raceway Driving School is the place to be. What better way to learn teamwork than to be forced into a fast-paced collaborative exercise with your coworkers. Beyond the racing itself, the facilities are stunning and the staff is helpful and energetic throughout the booking and on site process.
Crucible is the coolest place to learn a new craft, and yes by craft I literally mean craft. You can learn how to weld or blow glass, work with leather or create the custom metal project of your dreams, among other things. Group packages start at $900 and all include something to take home with you, too! You can also plan custom projects for your team to complete so that you can actually create a work of art for your office!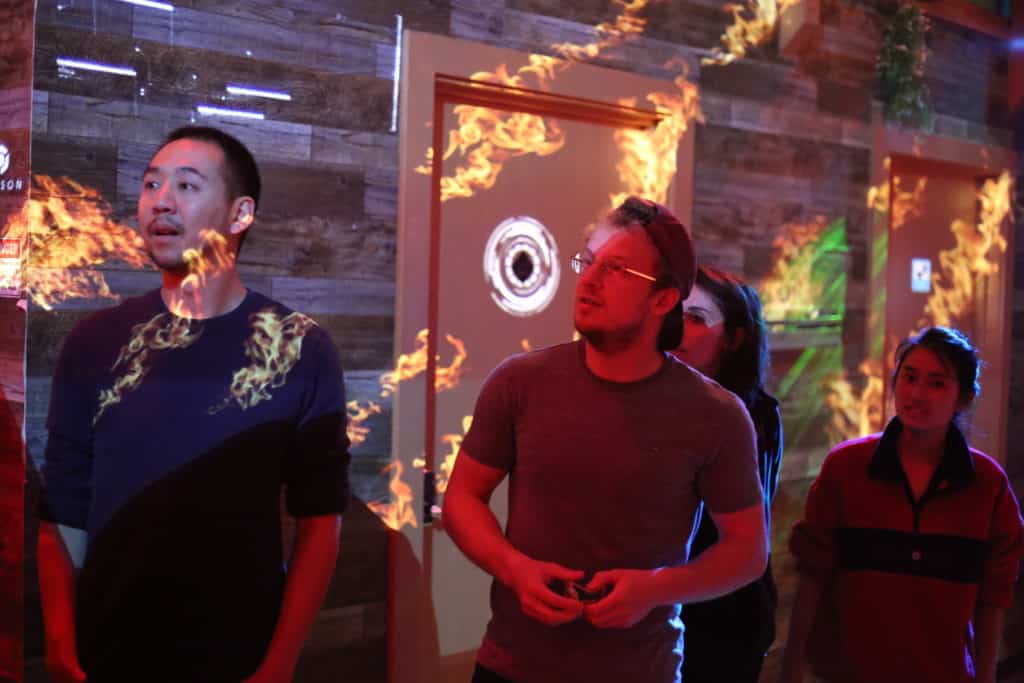 You'll be feeling the heat in this activity. Your team will have 80 minutes to escape a full-on nuclear reactor meltdown, but the sweet success of escaping the room will be worth the pressure. Reason is a high tech escape room in the heart of downtown San Francisco that specializes in sci-fi escape rooms, all equipped with awesome tech toys for your team to interact with throughout the challenge. They also cater well to corporate events, so that your team can bond over a meal and then over saving the world (or not)!
Ever wanted to be in the Hunger Games? What if I told you that you could without also risking your life? California survival school offers amazing fun and interactive classes for groups both corporate and otherwise. You can actually learn some really important skills while also building bonds and learning communication skills that will help you *survive* in the office.

YOU CAN BE AN ASTRONAUT. Well, you can experience Zero Gs weightless experience like an astronaut. The price may be steep, but can you really put a price on something so out of this world?! You get to have the real astronaut experience but still make it back to the city in time for a FiDi happy hour – how perfect can one day get?

Do you like honey? Do you want to #savethebees? Well, then I have an amazing activity for you and your coworkers. You can all get together and learn beekeeping techniques and methods from pros during a day-long beekeeping workshop. At San Francisco Bees and Pollen Co, you even get to work with real hives and harvest your own honey! Not only do you get to learn a fun new skill, but you can do so while building real teamwork and communication abilities with your teammates.
Do you love clowning around with friends and coworkers? What if you could take your act to a whole new level, literally? Circus Center holds day-long workshops to build all of your circus clowning and other skills that you might want to hone under the high top. Teams of coworkers can go together to show off their skills and learn how to communicate, all while having fun and trying something I can pretty much guarantee none of you have tried before.

SF is the land of bikes. You either ride one or have been hit by one or get annoyed when one makes you miss a right turn but hey, point is, bikes are all around. So why not build one? Give a kid their own bike?! I mean there's nothing cuter than that, really. At Turning Wheels for Kids, you and your coworkers get to build together using cool kits created by a nonprofit, so you get all of the moral rewards with none of the logistical stress-can I get a heck yeah?
Habitat for Humanity is a nationally recognized campaign for bettering the world via the alleviation of our continual housing crisis. Both low-income homes builds and disaster relief efforts are made through the organization, and your company can help! I mean how cool of a brag would that be: "What'd you do at work today?" "Oh, just built a HOUSE." Yeah. That could be YOU.

Conclusion
All in all there are so many amazing activities here in the Bay Area for your team to actually learn while also strengthening your own communication skills. Get out there and try something new with the confidence of a great team of coworkers backing you up. San Francisco is all about innovation and excitement; take advantage of the amazing area we live in and all of the cool things it has to offer! Get your coworkers together and try something new this time around.